Fromis_9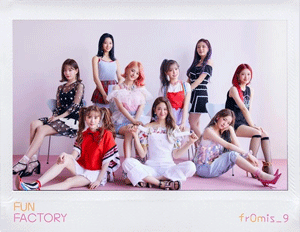 Fromis_9 is a Kpop idol girl group. The group was created under the company, Stone Music Entertainment, after their participation in an idol training survival program titled Idol School. The group consists of 9 members, such as Saerom, Hayoung, Gyuri, Jiwon, Jisun, Seoyeon, Chaeyoung, Nagyung, and Jiheon.
Fromis_9 has a rather distinct style of music. The lyrics of their songs alone are joyful and uplifting. Take a look at their song, "Fly High," for instance. "Fly high to sky, lights shall shine upon me even brighter…" They sing out to their audience, instilling happiness in their listeners. Other than the lyrics, their voices are all also vital to the presentation and sound of their songs. All of their voices are on the higher-pitched side, which allows each of them to make their songs even more upbeat and entertaining to listen to. Another major part of their songs is what the song actually sounds like without their voices. Some of their songs, like "FUN!" or "Glass Shoes" have bouncy beats and amazing background music that can make you want to sing or dance along. Their music sticks with its listeners. Each and every one of their songs are just so catchy!
Fromis_9 has been growing in popularity in the recent years, what with their most recently released song, "FUN!'" reaching 10 million views on Youtube alone! As a result of their popularity's growth, they have been appearing more and more. Fromis_9's members have performed at various concerts, in addition to starring in television shows and being active on social media sites, like Youtube. They even had a flash mob at Washington Square Park in July of 2019, where they were met with cheers and applause as they performed their hit song, "LOVE BOMB."
Fromis_9, evidently, is a growing Kpop idol group. They are receiving more and more recognition and popularity for their music and hard work in the Kpop industry. They radiate joy and cheerfulness; qualities which many people search for in their music preferences. So long as they keep up their dedication to their careers, they are sure to continue to be a successful idol group!