Vivienne Westwood's Legacy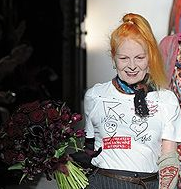 December 29th, 2022, marks the tragic day fashion designer and activist Vivienne Westwood passed away. She began her career in a small London boutique, hand-making controversial articles of clothing which defined the 1970s England punk scene and shaped the future of her profession. Her clothing collections, including her most recent, Spring 2023 Ready-To-Wear, represent a "fresh chapter in that ongoing Westwood concern." This collection, and previous ones, are a reminder that Vivienne's message of activism still lives on and should not be forgotten.
Westwood's activism regarding climate change and over-consumption is displayed through her collections. As of April 1, 2004, the Victoria and Albert museum displays various pieces from all her collections. This museum is acclaimed for its vast display of decorative art and exhibits the significance and inspiration behind her designs. The designer's passion for art, culture, and education, as well as her advocacy for particular causes, has influenced her to establish  Climate Revolution. This organization has rallied individuals together to take action against active concerns regarding political leaders and business industries. 
Even after her death, Westwood proposes a remarkable impact on society by publicizing her views to make a change. On social media, tributes continue to be paid to Westwood, with posts that honor and remember the designer. Her commitment is not easily overlooked and is straightforward, making it striking and influential in society's perspective. The memory of Westwood continues to live on, and so does her activism in the fashion industry and pressing global issues.