Smoothies and…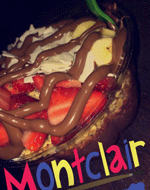 Hang on for a minute...we're trying to find some more stories you might like.
Smoothies, bowls, juices, and soups! My friend Jessica and I ventured to New Jersey's newest hotspot, Playa Bowls, a few weeks ago. With 9 locations throughout the state, these delicious treats can be enjoyed anywhere! We decided to visit the newest and most convenient location, which is in Montclair. When we first entered, we were overcome by the smell of fresh fruits. Tables were packed with people of all ages, as they all enjoyed their own smoothie bowl.
Even though there is an extensive menu, we chose to play it safe and order the most popular acai bowl, topped with bananas, strawberries, organic coconut shavings, organic granola, and nutella. These ordinary ingredients come to life when they are layered on top of the acai base, a superfood native to Central and South America. According to WebMD, "Some studies show that acai fruit pulp is even richer in antioxidants than cranberries, raspberries, blackberries, strawberries, or blueberries." Not only do these bowls taste amazing, but they are good for you too!
If you are looking for a healthy, yet delicious food option, make your way to Playa Bowls in Montclair.