Zumba Night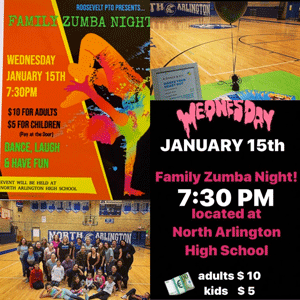 Hang on for a minute...we're trying to find some more stories you might like.
North Arlington High School presented 'Zumba Night' coordinated by the Roosevelt PTO. For those of you who may not know, Zumba is a type of fitness that involves working out and dancing that goes along to the sounds of the music that is being played. This night was hosted by the company 'B.Dance.B.Fit' which is a partnership of Brielle and Bianca, two Zumba instructors who host classes of dance fitness of all levels. This night was open up to children K and up as well as adults
The night started off with some music to get us into the rhythm and then it was time to get our groove on. We started off with a warm up and then we proceeded into the actual workouts. We finished with a cool down which left us wanting more. This was a fun night of dancing and laughing that left me sore, in a good way. Zumba is a great type of fitness if you're looking to get fit and have fun at the same time. I highly recommend trying it out sometime if you haven't already done so!