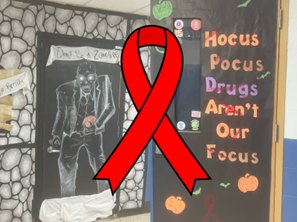 Every year, from Oct. 23rd up until Halloween, school districts across the country celebrate Red Ribbon Week. The campaign encourages students across all grades to live a healthy, drug-free life. Red Ribbon Week got its start in 1980, created by the National Family Partnership to combat a growing concern over drug abuse among youth. The week is dedicated to both educating people on the dangers of drugs and other substances, and to encourage recovery for those struggling with addiction.
On October 24th, North Arlington was visited by entertainer and youth speaker Robb Holla, who presented a program regarding vaping. Prior to the assembly, pins displaying the titular red ribbon were handed out to students. Holla performed magic tricks with the help of student volunteers, and told stories of his personal experiences and struggles. He also cleared up common misconceptions surrounding vapes. As vaping continues to be a prominent issue among preteens and teenagers, it is more important than ever to keep the facts as clear and available as possible.
Around the school, doors were decorated with Halloween themed anti-drug slogans. 
If you or somebody you know are struggling with substance abuse, visit SAMHA's confidential, 24/7 helpline.