2023 NAHS Showcase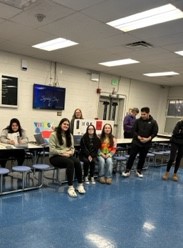 On March 8th, North Arlington High School opened its doors to incoming freshmen, offering them a chance to explore the clubs and sports that are offered. Clubs, located in the cafeteria, and sports, located in the gymnasium, put together posters and presentations to attract members for the coming school year. Further, the fair gave the soon-to-be high schoolers a chance to interact with current NAHS students and advisors in order to familiarize themselves with the people they will be seeing around the building in September.
Some clubs/sports had visual and auditory experiences for the incoming freshmen. For example, the astronomy club held a viewing in the parking lot to admire the planets and the band performed some music. Also, each club used different mediums to convey their message. The BCC program used a projection to display their message, most clubs used posters, some sports had their participants wear apparel (the cheerleaders wore bows in their hair), the Viking Saga, our school's digital newspaper,  displayed its online publication on laptops, and all others had excellent presentations as well. 
Overall, the club fair was a success. Many incoming freshmen showed interest in the numerous extracurriculars offered at NAHS and used the opportunity to familiarize themselves with the school they will soon be attending. As this school year approaches its end and the building prepares for the upcoming class, this is just one of the activities that is used to get the soon-to-be freshmen thinking about their high school career.