St. Rocco's Toy Drive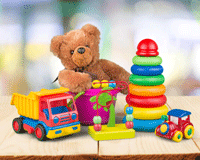 Hang on for a minute...we're trying to find some more stories you might like.
On December 7th and 8th, students from our North Arlington high school Interact and SADD club was able to help out in the St. Rocco's annual toy drive. We unloaded trucks and cars filled to the brim with toys for boys and girls of all ages. Just looking at the boxes and thinking about how happy the children will be to have a brand new toy in their hands brought a smile to everyone's faces.
We moved quickly, excited to be able to give back to the community in such an impactful way. All of the volunteers who showed us what to do and helped out were extremely kind and welcoming. We would like to thank them for letting us help deliver some Christmas cheer to the children in need.