Stolen Roman statue returned to France after 50 years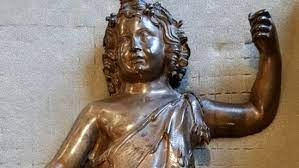 A piece of art stolen for almost half a century has finally made its way back to the French museum where it was at first displayed. The piece of art was known as a Roman statue of the god, Bacchus. Around December 1973, the 1st Century bronze statue of Bacchus as a child was taken by thieves, along with 5,000 Roman coins. 
The statue was discovered at the archeological site of the 'Gallo-Roman village of Vertillum' in eastern France in 1894. Additionally, it was showcased years later in a Paris exhibition with the title of one of France's finest art pieces. 
The statue has a ton of detail added to the hair and much more. The hero that returned the statue, Arthur Brand states, "Fifty years after a theft it's unheard of that something comes back- normally it's been destroyed." 
Moreover, Museum director, Catherine Monnet was surprised to have her hands on it. Initially, as a replacement for the stolen art, director Monnet put out a copy to represent the original. However, she stated that the replica did not look as good as the original. It's a pleasure to see the statue back where it belongs!