Favorite Desserts Around the World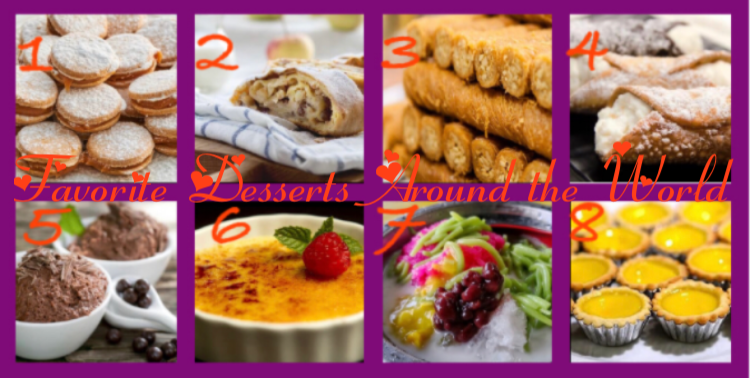 What is the best dessert in the world? If you were to ask anyone around you–your siblings, parents, grandparents, neighbors, friends–chances are, their answers are going to be different from yours! On a broader spectrum, the variety of favorite desserts around the world expands.
For instance, in South America the dessert that can be found in any bakery from Argentina to Peru is called the alfajore (Image 1).This dessert is two shortbread cookies filled with dulce de leche that can be served in numerous ways including: dunked in dark chocolate, coated with white chocolate, rolled in coconut flakes.
In Austria, the most enjoyed dessert is known as an apfelstrudel (Image 2). This dessert is a dough that is filled with apples, raisins, walnuts, and sometimes served with coffee.  Middle Easterners enjoy borma (Image 3) — a treat similar to baklava. Borma is a crisp knafeh dough wrapped around a rich nut filling and can be rolled in pistachios, pine nuts, and walnuts.
In Sicily cannolis (Image 4)  are widely loved and in France chocolate mousse (Image 5) and creme brulee (Image 6) are adored. During afternoons in Singapore, cendol (Image 7) is commonly found being enjoyed at seaside restaurants and sidewalk stands. This dessert is a mixture of coconut milk sweetened with a palm sugar syrup and topped with strings of green rice-flour jelly and sweetened red beans.
Last but certainly not least, in Hong Kong, dan tat (Image 8) are a favorite. Similar to the Portugese pastéis de natas, these pastries are a crust dough baked and filled with egg custard! 
In our own United States, some of the favorite desserts are brownies, chocolate chip cookies, doughnuts, cheesecake, and ice cream. My personal favorite dessert is cinnamon buns. When I asked my family members what their favorite desserts were, I got very common responses. My siblings both enjoy chocolate lava cakes. My mother's go-to dessert is red velvet cake and my father– baklava. 
Although I could go on and on about the list of favorite desserts from around the world forever, I have only listed a few to whet your appetite. If you are interested, the list continues in  https://www.cnn.com/travel/article/world-50-best-desserts/index.html, so be sure to check it out!