Fall Fun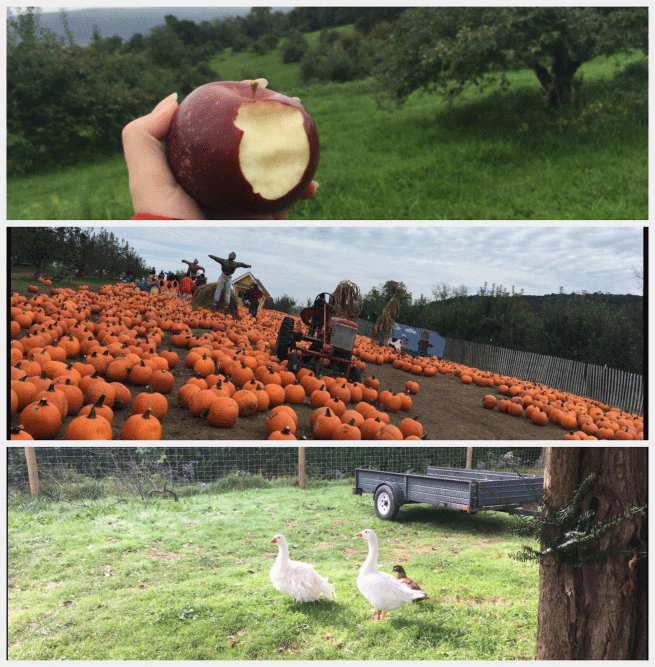 Fall is one of those golden times of year where there are ample opportunities to go and have fun and the weather is actually nice. In autumn, one does not have to fear the blistering humidity and mosquito-plagued apocalypse summer brings or the ice-age level temperatures and bitterly cold winds that accompany winter. Fall is crisp, cool, and colorful, and there are lots of things to do.
Usually, one of the first things I do in fall is go apple picking with my family. We go to Pochuck Valley Farms every year and end up returning with an enormous bag of apples perfect for making any assortment of desserts. Being that apples keep so long, we usually have pie in the house even around Halloween. There really is no better way to spend a cool Saturday afternoon in October than going out into the countryside to pick some apples and get a good ham sandwich.
Also, in the farm category is pumpkin picking. A lot of people go to pumpkin patches with their friends all throughout the fall, but it is fun even to go alone. I went with my friends Rachael and Gwen this year and we had a blast picking out some huge pumpkins and feeding the farm animals up in Apple Ridge Orchard in Warwick. Another must is the apple cider donuts many farms make and sell during the fall. If you like donuts, cinnamon sugar, and apple cider, this is the sweet treat for you.
For more adventurous people, haunted houses and corn mazes are the way to go. A lot of people go to Brighton Asylum and various Scare Fairs around the area, they are pretty easy to find and a thrilling experience for anyone looking to do something spooky for the night.
Overall, there a lot of things to do in fall, especially in our area. Corn mazes are another idea, but they are harder to find. They also hold The Great Jack O'Lantern Blaze in New York all throughout October where thousands of carved and lit jack o'lanterns are put on display as sculptures. Regardless of what you do for fall, though, have fun with it. We only have so many years to be in high school, we might as well enjoy each season as they come.
Photography sources: Olivia Mistretta