Parents Back to School Night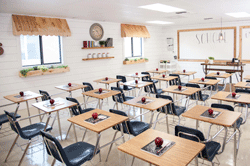 Back to school night is certainly quite a task for parents. From navigating the halls to adjusting to a new schedule, back to school night shows parents what we are experiencing on a day to day basis. On September 24, 2018 students and parents were greeted by the North Arlington Band and Color Guard with an amazing performance as we walked inside the High School.
In the high school's gymnasium, administrators welcomed and warmly addressed the audience before visitors dispersed to meet their children's teachers. The night went smoothly as parents ran around trying to get to all of the classrooms. Faculty members were seen not only in classrooms, but throughout the halls as well helping parents reach their destinations. The Culinary Club and the Viking Saga staff cheerfully hosted a cookie bake sale to raise funds for their clubs. Back to school night was yet again a positive experience for all and the perfect way to begin an amazing year for Viking students and staff.