National Honor Society Induction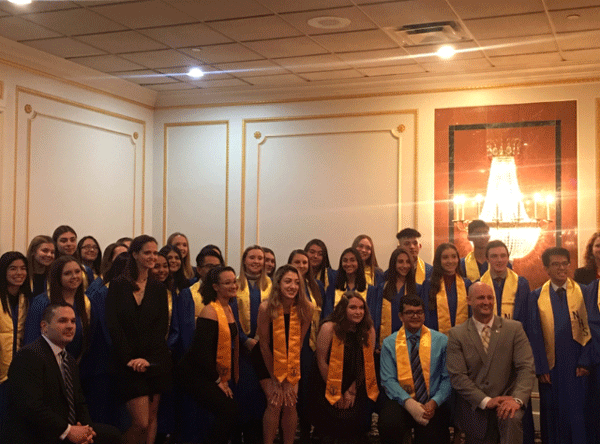 The National Honor Society is one of the school's most selective groups, choosing to induct a variety of students based on the four pillars of Character, Service, Leadership, and Scholarship every year. This year was one of the biggest inductions yet and was held at the San Carlo Banquet Hall in Lyndhurst.
The dinner began as always with a welcome speech by the new President of the National Honor Society, Emily Miller, who spoke to the inductees and recalled when she was in their shoes last year waiting to be inducted. Afterward, our new Advisor Mrs. Turner-Turano came up to speak to the audience and talk more about what it means to be inducted into the National Honor Society. She then introduced Dr. Yurchak and Mr. Bott who both addressed the attendees and praised the students for all of their hard work, dedication, and involvement not just in North Arlington High School but in our community.
Next, the Secretary and Treasurer Reports were delivered by Olivia Mistretta and Rahul Patel, respectively. There is a lot planned for Chapter 2562 this year, from a day trip at the end of the year to some exciting community service projects, such as a Book Drive and a canned food collection for the Queen of Peace Food Pantry. The students are also excited for the annual HANDS Casino Night and Valentine's Day Dance, two events the National Honor Society of North Arlington High School has hosted for a few years now. Both are always a success, and the HANDS group looks forward to them every February and March. In addition, the Gertrude Hawk Candy sale was successful, and the Honor Society plans to hold more fund-raisers later this year.
Following the reports was the induction of this year's Honorary Inductee, Mrs. Gagliano! Sidney Mejia delivered a speech about Mrs. Gagliano, who is a wonderful teacher and advisor at North Arlington High School. The officers then presented her with the special award and took a group picture. The four Officers were inducted next and dinner was served shortly after.
Then it was time for the main event, the induction of the new members! A total of 33 students were inducted, each getting a moment to shine as they lit their candles and collected their certificates with pride. When all of the names were called, President Emily Miller recited the oath with the new candidates, and they became official members. There is a lot of potential with such a large group of students, and we are extremely proud of everyone who qualified. Thank you to our administration for supporting us, Mrs. Turner-Turano and the Officers for organizing the dinner, and all the staff members, parents, and friends who joined us for the evening. Congratulations, everyone!