Recent Student Elections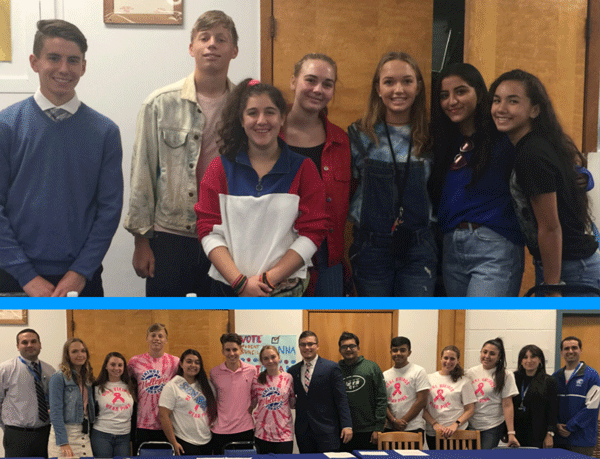 On October 25, 2019, North Arlington High School let members of the Student Council campaign for positions in office. In the morning, the candidates greeted students in the cafeteria and proposed their plans and ideas for office. Each candidate had a creative poster and other ways to campaign, such as personalized pencils and buttons. Some even brought in treats for their supporters. Overall, candidate Anna Lasek thought that the Meet and Greet was a great way "to spread our goals and words, and for the school to meet nominees." She was "quite nervous when interacting with the student body" because she, like most of the candidates, knew she had to make a lasting impression.  Later, after school that day, candidates gave speeches on their qualifications for positions.
Similarly, on the 30th of October, the Junior class was called down to listen to the campaign speeches for the Junior Class Committee. Each position will be held for two years and the candidates were very excited to let the class know of their plans and aspirations. When asked about her experience giving her speech, Lianne Litchfield recalled that she, "was nervous, not knowing what would happen." The speeches were welcomed as each candidate received a big applause.
In the end, the Student Council positions were filled out by Anna Lasek for Historian, Katherine Lasek for Secretary, Emily Miller for Event Coordinator, and Rahul Patel for Treasurer. Aidan Hughes, who won the position of Vice President, was very excited when he found out the results of the election on the ride home from BCC. As Vice President, he stated that his goal "is for not only student council, but the school in its entirety to unite us all. As a whole, working together, our school can accomplish so much more for the district, and even the community!"  Nick Rotondo was voted President for both the Student Council and Junior Class Committee. When asked about his win, Nick said, "Today's victories show that hard work and dedication will always prevail."
As for the Junior Class Committee, there were no oppositions as Alyssa Buccheri became Event Coordinator, Laura Guglielmelli Treasurer, Katherine Lasek Secretary and Anna Lasek became the Vice President.
These school elections were a fun way to get the entire school involved in the process of democratically selecting officers for two extra-curricular organizations. Congratulations to all winners.