You Matter Assembly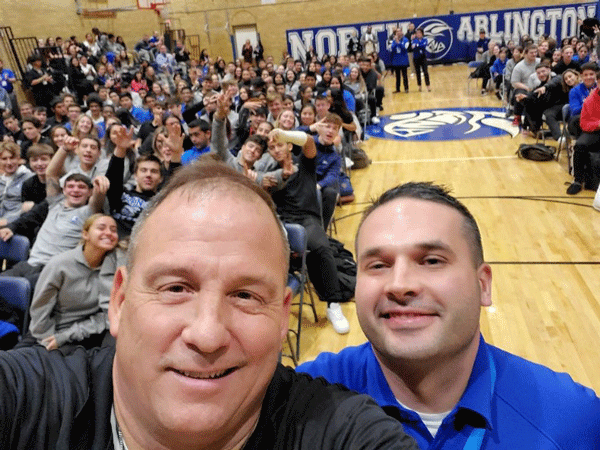 In a matter of seconds, your entire life can be flipped upside down. Everything can change. This is the message that is sent by Bobby Petrocelli, a motivational speaker who uses the experience of a tragedy to convey it.
This fall Petrocelli visited North Arlington High School to share his story and message to both students and staff. He started off his talk rather happily. He created a friendly and comfortable aura that enveloped the entire gymnasium. Laughs and smiles were shared among everyone. This was quickly shattered the instant Petrocelli brought up the event that changed his life forever; the death of his wife. Petrocelli explained with startling detail about how one fateful night, a car slammed into his bedroom. Petrocelli was hit by the vehicle, along with his wife. His wife died in the incident. At first, Petrocelli didn't believe it. He couldn't comprehend it. His disbelief promptly morphed into anguish upon the realization that his wife was truly never coming back.
For a while, Petrocelli fell into a downwards spiral. He was stuck in a heavy depression. This is where the story begins to change for the better. Petrocelli began to describe how he found his light in the midst of his depression. He was helped by the students he cared for during his years as a sports coach and teacher, among other things. He was able to recover and become the person he is today with their help.
With this recovery, however, he was able to come to the understanding that there was a reason as to why that drunk driver crashed into his bedroom that night. The driver, Petrocelli emphasized, felt as though he did not matter due to their feelings of hurt, shame, and guilt. These perturbed emotions caused the driver to get drunk that night. They caused the driver to make detrimental choices that unfortunately afflicted others. Petrocelli expressed and connected this revelation to his audience. He insisted upon the fact that we may all have felt this way at some point in our lives.
"You matter," was the meaningful phrase Petrocelli repeated to us shortly afterwards. It resonated in the hearts of the audience that day. Its effects were made especially clear after the assembly was over. A cluster of students around Petrocelli thanked him for his talk, and even took 'selfies' with him. Some explained their own issues to him and how he had made them feel as though they mattered. In the halls, I heard friends telling each other that they mattered.
Bobby Petrocelli is one of the most positive, impactful speakers NAHS has had this year so far. His voice and story has remained in our minds and hearts ever since.