Summer Tales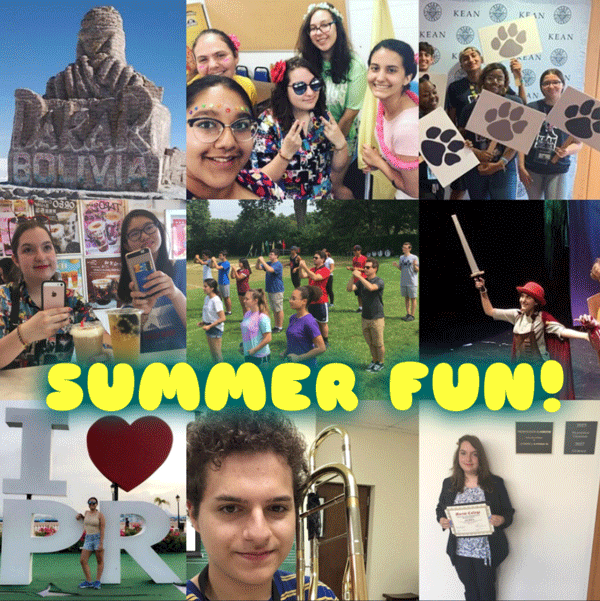 Since school just came back in session, the question is being asked everywhere, "What did you do this summer?" From just relaxing at home to trips overseas, visiting family out of state, journeying into New York, doing summer programs, going to the beach, and moving into college, the Vikings have had quite a variety of experiences this summer.
Assistant Editor, sophomore, Brian Kataro, described his summer as relatively relaxing, "I spent a large part of my summer just staying at my home, playing video games, relaxing, not having to deal with too many things on my mind. For about a week, I went out to Wildwood Crest with my family, eating gyros by the seaside and enjoying the water while the sun blazed down from above." Sounds like a lot of fun and plenty of wonderful memories made!
Next up is Staff Writer, Emily Irizarry, who spent time with her family in Puerto Rico this August, "Connecting with my family was great. There was a lot to catch up on and lots of love and hugs to give. We all went to dinner so we could enjoy a good meal." What better way to enjoy a vacation than with family and old friends? Emily also told of a lovely visit to the beach and to some historical sites such as Old San Juan- seems like she had a pretty amazing time!
In the same spirit of travel, Nicole Duffett, another Staff Writer spent a large part of her summer visiting family overseas, "Bolivia was a lot of fun! There was so much to see and do over there! I hope I can go back soon!"
Pavneet Kaur, a freshman and member of Color Guard, particularly enjoyed attending band camp this summer, "I really enjoyed the summer I had this year, and it's mostly due to Marching Band practices and Band Camp. Everyone in the marching band is so kind and welcoming. I'm so glad I got a taste of high school beforehand, and I'm really excited to see what freshman year brings!"
A rather interesting summer story comes from junior, Claudia Fernandes, who attended a theatre program this summer, "The program I participated in this summer challenges young actors to think outside of the box. The Shakespeare Theatre of NJ held on Drew University's campus is available ages 10-18. My favorite part about the intensive program was the workshops and thrilling games that encouraged us to connect more with our character, helping us prepare for our end of camp show, 'A Midsummer Night's Dream'. I feel the program is important to break out of your shell and discover new parts about yourself that you hadn't already known!" Claudia intends to participate in more theatre activities throughout the year in the high school, so we can't wait to see her on stage!
Senior Edward Mistretta had a rather busy summer as he partook in a variety of intense musical programs, "The entire month of July for me was dedicated to summer programs. I was accepted into many programs, but I chose to attend two of them: The NYU Steinhardt Summer Brass Workshop, and The New England Conservatory Summer Orchestra Institute, where I took master classes, played in brass ensembles, quintets, an orchestra, and even had my own solo recital." Edward is involved with our high school concert and marching band where he is a Drum Major, and he will continue in his music endeavors throughout his senior year.
Mark Barbosa, another freshman, enjoyed his summer traveling and going to band camp, "During the summer I managed to visit my family in Utah, and after that I made new friends because of band and playing video games."
Stephanie Zhang, currently a junior, accompanied me on a New York City outing this July. It was our first time being in the city by ourselves, and we had an amazing journey navigating Chinatown, Tribeca, South Street Seaport, and Greenwich Village. Stephanie remarked, "Surprisingly, it was not as scary as I had imagined. With Olivia next to me, it didn't feel as daunting. Instead, it became an enjoyable experience that I would definitely do again!" One of our favorite stops was at The Doughnut Project near the Washington Arch, we'll definitely be back again!
Kacy Willis, recent graduate of NAHS, finished her summer by moving into Kean University, "My move-in experience was fun but also tiring because there are a lot of other new people moving in at the same time, and everyone is trying to get to know each other. My first day of class actually wasn't that bad because professors understand the anxiety you're going through." It is good to hear that Kacy is fitting in well at her new school; we wish her the best of luck in college!
What did I do this summer? I spent a large part of my summer trying to better myself before my senior year. It started with a two-week Pre-College program at one of my favorite colleges so far, Marist College. I took an introductory business class while I was there and stayed in a dorm with two other girls who were also in the business program. It was scary at first, but I ended up having an amazing time staying there. The campus was beautiful, set on the Hudson River, and our dorm had a perfect view of the sunset. When all was said and done, I passed the class with an A and earned 3 college credits. After completing the program, I participated in our town's summer work program, and then spent a few days at Asbury Park beach with my friends.
Overall, this summer was quite eventful for the students at NAHS! Whether it was working on summer assignments, visiting a different country, getting a summer job, participating in a program, or even just relaxing, it seems like everyone had a great summer break!