Recognizing Achievement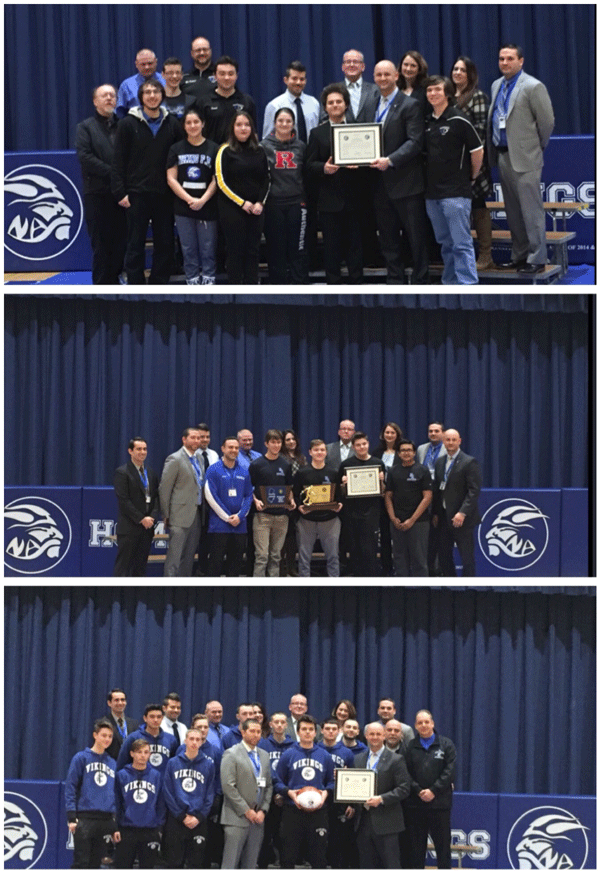 Recently, the Board of Education recognized some of the high-achieving students of NAHS. At the meeting, the Board of Education and Dr. Yurchak acknowledged Edward Mistretta, Matthew Lynch, and the NAHS bowling team.
Edward Mistretta is an NAHS Junior who was recognized for his accomplishments in the Region 1 (North Jersey) Wind Ensemble and the Region 1 Orchestra. Both programs are prestigious honors bands and Edward had to train for over a year just to pass on his audition. Mr. Kastner, Mr. Nicolle, and the school administration helped with the rigorous audition process, Edward placed 3 out of 24 trombones. With the Region 1 Wind Ensemble, he played 2nd chair trombone and 1st chair trombone in Region 1 Orchestra. He looks to pursue music as a career, so it is no surprise how much he has accomplished! For his achievements, he was given an official certificate of recognition from the Board of Education and Dr. Yurchak. He is pictured at the top with members of the school administration, Mr. Nicolle and Mr. Kastner, as well as his band mates.
The North Arlington Bowling Team has yet again emerged victorious with a perfect season becoming Group 1 Champions for North Jersey. The varsity boys' team consisting of Eric McKenna, Liam Henkel, Peyton Esposito, Rahul Patel and Trent Petito also took second place in the NJIC Meadowlands Division championship, just two points behind the Lyndhurst Bowling team. The boys also made it to the semifinals at the State Sectional Tournament of Champions. The senior players (McKenna and Henkel) scored extremely high in both games, KcKenna scoring a total of 803 points and Henkel with 577 points. McKenna also received the highest average, highest game, and highest series at the Meadowlands Division championship. Coach Farinola was also recognized by the Board and Dr. Yurchak as coach of the year! For their great successes, the team was presented with a certificate of recognition from the Board of Education and Dr. Yurchak.
Matthew Lynch, one of the star basketball players at NAHS, was recognized at the meeting for scoring 1,000 points. For his accomplishment, he was presented with a special painted basketball. Matt is truly worthy of the accolades in the realm of North Arlington's Basketball history.
Congratulations to all of the hardworking, dedicated, and talented students and thank you to all the coaches, directors, teachers, administration and members of the school board for supporting their endeavors and recognizing their efforts. We hope to see more excellence come from NAHS in the future!