Staff Spotlight: Mr. Kenny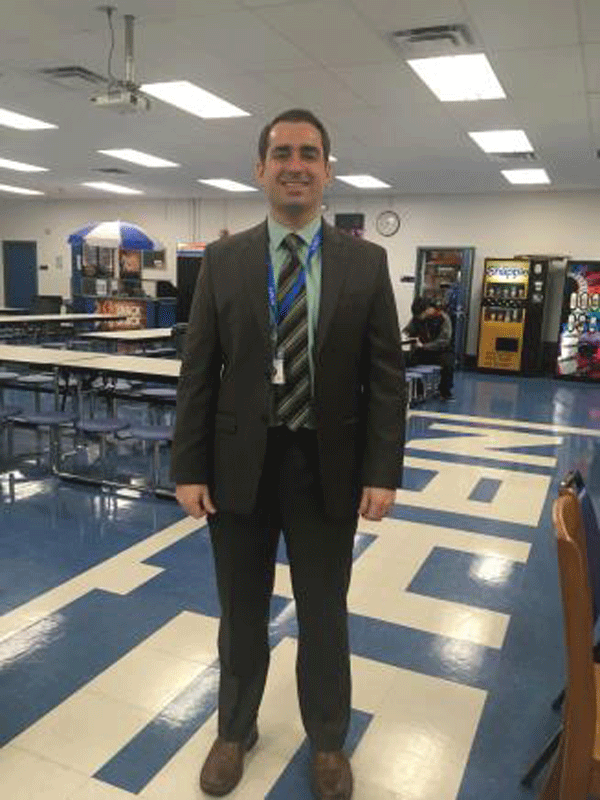 This week's spotlight goes to Mr. Kenny, our very own NAHS Assistant Principal! Mr. Kenny, like many other staff members in the district, grew up in North Arlington.
"I went to high to school here – I'm a lifelong Viking," Mr. Kenny told me during our interview. He also remarked that his favorite subjects while at NAHS were math and history. Past his time as a student here, Mr. Kenny continued his higher education at Pace University in New York City. After earning a degree in business administration in marketing, he went back to school through an alternate route program at St. Peter's to earn a Master of Arts degree in educational administration. In 2002, he was back at NAHS as a substitute teacher and began officially teaching in the fall of 2003. In 2010, after seven years of teaching in the business department, Mr. Kenny became the Assistant Principal.
When inquired about his favorite part of the job, Mr. Kenny responded, "My favorite part of the job is the people–Working with kids and helping kids realize their potential. Also with the staff, I feel like we have such a great staff here that cares about the kids, so it's great working with them." Mr. Kenny is clearly a very dedicated administrator, in more ways than one. Throughout the year, he can be spotted at many different games and school events, supporting and encouraging NAHS students whenever he can. When asked about his advice for the student body, Mr. Kenny had great advice, "You want to make the most of the years you have here because it gets a lot more complicated once you leave high school. Get involved, enjoy being a kid, work hard, and have goals – But don't rush to be an adult."
But what about outside of school? In his leisure time, Mr. Kenny describes his life at home, "[I] spend time with my family, that's what I'm doing 99% of the time. I've got my two beautiful kids Sophia and Isabella, and my wife Jennifer. I also love sports; I'm a huge Giants and Mets fan. I also love politics; I'm constantly watching and soaking that stuff up." Though he doesn't watch a lot of movies, his all-time favorite is Back To The Future and he also enjoyed watching the show Seinfeld while growing up.
As a whole, Mr. Kenny describes his vision for NAHS to be a safe and inclusive environment, "I want this to be a great place for kids to come to school, I want kids to feel like they're a part of something here and I want this to continue to be the small school atmosphere it's always been where no kid goes unnoticed." He also added that there are interesting things coming up for the school, "We're looking to increase the amount of AP offerings next year, more classes. We have a new guidance director and we're really happy to have Mr. Aronowitz (our new athletic director). We're excited with the new additions to our administrative team."
It also must be wondered- Mr. Kenny has probably seen many things as the Assistant Principal. When I asked him about his wildest experience here at the high school, he told me about an odd occurrence that happened just last year, "It was the last day of school, I had to go do something at the middle school. I was gone for about an hour. I walk in my office and there are portraits of every single president all over my office. I walked in and I felt like the room was spinning! I think the prankster is Mrs. O'Brien-Romer."
When questioned about the act, Mrs. O'Brien-Romer simply responded, "No comment." Could it be that my AP U.S. History teacher pranked our Assistant Principal? It seems the only eyes that have seen the truth are those of President Eisenhower- Whose portrait is the only one that remains, hanging ominously on one of Mr. Kenny's filing cabinets.
As a final note, Mr. Kenny stated that the ultimate message for all the students of NAHS to take away with them, even after graduation, would be, "You'll always be a part of the Viking family, you'll always be a Viking."