A Night of Excellence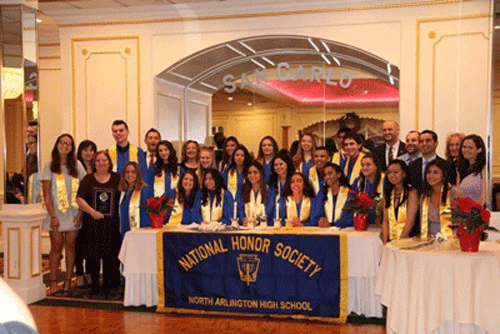 Hang on for a minute...we're trying to find some more stories you might like.
The annual National Honor Society Induction took place on December 6, 2017 to welcome 18 new members. The evening began with a welcome from the new President of the society, Nayomi Santos, and a personal speech from our Superintendent, Dr. Stephen Yurchak. Following this, NHS Advisor, Mrs. Karin Kusher, inducted the new officers: Nayomi Santos (President), Emily Hontiveros (Vice President), Carlie Mullins (Secretary), Maria Fahmy (Treasurer). The new officers then read reports from last year's successes including HANDS Casino Night, Valentine's Dance, and can drives.
Before dinner was served, the society took a moment to recognize Mrs. Annette Ingannamorte as this year's Honorary Inductee. All the diligent work and effort she puts into her students and extra-curricular activitites, such as the Viking Saga and Book Club, were noted. Teary-eyed, Mrs. Ingannamorte accepted her award and shared an emotional speech after confessing that she was lost for words and stated, "It takes a lot to make me speechless."
At this point, it was time for the spotlight to be on the students who represent the finest of the school. These eighteen juniors and seniors have shown character, scholarship, leadership, and service during their high school career. Each of them was called to light a candle while a curt biography was shared with the audience. In the end, they recited an oath pledging to honor the principles of the National Honor Society. They now join the 15 current members.
Upcoming projects include a can drive, book drive, and the HANDS dance.