Maria Polanco Rows to a Scholarship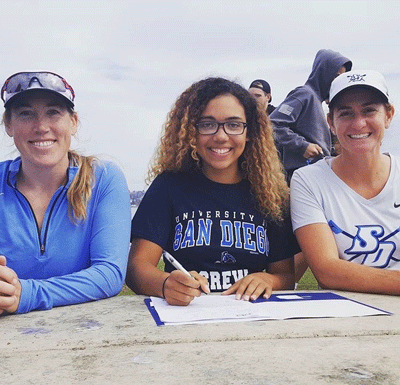 Hang on for a minute...we're trying to find some more stories you might like.
Maria Polanco is a 17-year-old senior at North Arlington High School. Maria is a bright and involved student. In her free time, she enjoys playing the flute. She is a member of concert band and marching band. On top of Maria's passion for music, she has also developed a strong love for crew. Maria started to row freshman year. When sophomore year came she moved up to a varsity boat, which was rare for a sophomore member of the team. From the start of her crew career, Maria showed that she would surely dominate the sport.
The talented athlete attended the 2017 World Rowing Championship in Sarasota, Florida. There, coaches and recruiters from all over the country observed her. As Maria was the talk of the race, coaches from the University of San Diego caught wind of an amazing athlete from the small town of North Arlington. Over the break, Maria travelled to San Diego to meet up with the eager coaches. Maria states, "It was scary at first, since I was meeting the coaches face to face for the first time. But once I was there my nerves melted away. We went to Little Mexico where we enjoyed delicious Mexican food. Also, the beautiful scenery took my breath away." Maria also enjoyed the trip as she was able to dorm with a future teammate, and get a first hand feel for how practices are run at USD.
During this unforgettable trip, Maria signed the National Letter of Intent to the University of San Diego where she will be going Division 1 on a full-ride scholarship. According to Maria, "This amazing opportunity would not be possible without the support from Coach Cortes, my friends, and my family." As college is quickly approaching, Maria looks forward to attending National Collegiate Athletic Association races. Although she cannot wait to start her next chapter in California, she remarks that she will miss her mom's cooking. Congratulations Maria! The University of San Diego is lucky to have you!