Spring Concert NAHS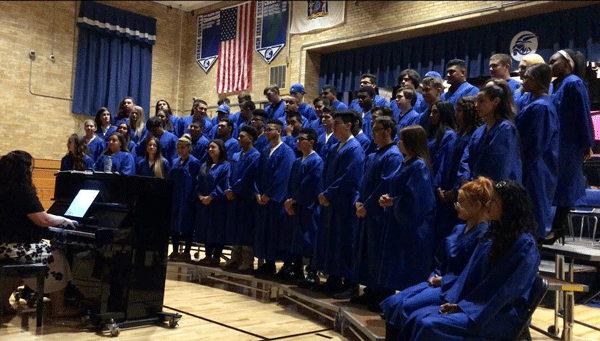 Hang on for a minute...we're trying to find some more stories you might like.
Spring is always an exciting time in North Arlington High School, especially for students involved in music and the arts. The Spring Concert was hosted on May 23rd and the audience was met with wonderful performances by the Viking band and chorus. The chorus began the show with the hit song "Skyfall" by Adele Adkins, it was a truly touching song and the voices of the choir were able to convey the message of the tune spectacularly. They then sang a Journey medley full of audience favorites, "The Road to Regionals", and next, "Can't Help Falling in Love", and finished with another beautiful offering called "Medley from Rent". Sadly, it was Mrs. Corcoran-Kastner's last performance as director at the high school. She will be deeply missed by the staff and the great many students whose lives she has touched throughout her teaching years in North Arlington High School.
Following the choral performance, the N.A. Band performed four extraordinary songs that dazzled the audience. The theme that Band Director Mr. Kastner and his students came up with was 'Imagination'; in the sense that every song was chosen to appeal to the imagination of listeners. Each song told a story, and the two most popular songs were "Imaginarium" by Randall D. Stanridge and "The Great Locomotive Chase" by Robert W. Smith. "Imaginarium" enchanted the audience with a message of the spark of new ideas, the challenge of doubt in one's life, and overcoming that doubt and emerging as a stronger person.
The night concluded with a visit from various loyal North Arlington High School Alumni members, led by 2014 graduate Beth Kowalczyk, who to everyone's surprise came to the front of the stage to sing a farewell ballad to honor Mrs. Corcoran-Kastner and present her with a bouquet of flowers. The song "For Good", from the musical Wicked, was deeply moving; many people were in tears because of the touching message.
When questioned about his favorite song to play, Daniel O'Neil remarked, "My favorite has to be "Imaginarium", even though it was our most challenging song, we were able to cross that finish line and play it well together."
Cassie Armout agreed and added, "There are so many different aspects of the piece, we had to somehow capture each aspect within each section," adding that it too was her favorite song from the concert.
The concert highlighted the importance of the music program; displaying how much time and undying dedication these students have to chorus and band. It is clear that students benefit greatly from the teamwork involved in expressing themselves through art. A big thank you goes out to the students and directors for doing such a fantastic job!