North Arlington High School Winter Concert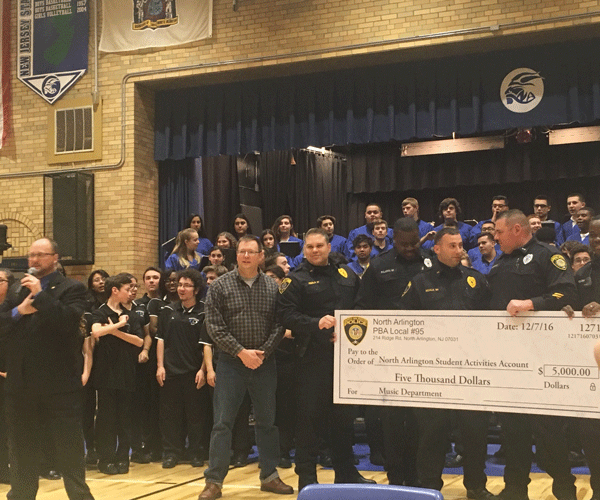 Walking into the gym on Wednesday night, December 7, was quite exciting with promise of a lovely performance by the chorus and concert band. Before the show started, it was announced that the North Arlington Police Department was making a very generous donation of $5,000 dollars to the music department of the school. It was clear that everyone was extremely grateful for the donation, and it was a pleasant surprise fit for the giving season. The chorus performed first, singing 'Merry Christmas, Merry Christmas', a soulful Hanukkah medley (in Hebrew!) and finally 'Christmas in About Three Minutes', a medley composed of 23 Christmas tunes in one song.  It was obvious how hard the chorus members had worked to put on the show, and it was easy to get lost in the enchanting sound of their voices.
Afterword, the Viking band took the stage to play 'Bell Carol Fantasy' (Carol of the Bells), 'Hanukkah Holiday', and 'Winter Holiday'. Their performance was a fine conclusion to the show. The songs sounded very professional, and the many cheers they received were much deserved. Mr. Kastner, Director of Bands, spoke and mentioned that many of the band players were freshmen, and that he was proud of their efforts. The very next day, he also mentioned that he always reminds his students that, "Nothing of value comes without hard work."
It seemed the surprises of the night were not over when both drum majors, Alex Ruiz and Luis Moco, each took a turn conducting one last time when the band erupted into two of their cherished football game show songs- 'Show Me How You Burlesque' and 'Sing Sing Sing'. The impromptu after-show was very special and displayed the true joy of the band in their love of performing together. The old songs seemed to rekindle the marching band season spirit if only for a moment in time.
When asked the day after about their experiences, a few band players mentioned how they felt about the concert:
"We had a rough start in creating and practicing the music, but overall the concert was better than any of us could have hoped for. We only plan on getting better." –Jasmine Poventud, Field Commander and percussionist
"I put in a considerable effort, and I'm sure it was reflected in the show." –Edward Mistretta, Trombonist
Daniel O'Neill, percussionist, also mentioned how it was "an experience we will never forget."
It was truly a memorable and festive night for all.