Senior Spotlight -Nicholas Rotondo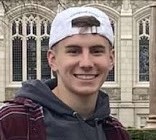 Out of the extraordinary Class of 2021, is senior Nicholas Rotondo.  Nicholas, who also goes by Nick, has grown up in North Arlington his entire life.  
Throughout his years going to school, one of his favorite classes he took was Propaganda, Genocide, and Oppression with Mrs. Burns.  Another class he liked was Geometry with Mr. Dembowski.  Nick is involved in numerous extracurricular activities within the school, including the Student Council, Class of 2021 Executive Board, National Honor Society, and the Athletic Council.  He is also involved in the Traffic Safety Team, which he is a co-founder of, Yearbook, and the SADD/Interact Club.  After school, you might see Nick running around the track for the Varsity Track & Field Team or on the Boys Varsity Soccer Team field. 
If you are ever at Mr. Bruno's in Lyndhurst on a day from Wednesday through Saturday, you can catch Nick as a waiter there!  Nick is the Class President of the senior class, as well as the Student Council President.  He was also a captain of the Boys Varsity Soccer team.  An award Nick received for going above and beyond was the Recipient of the 2021 Bergen County MLK Jr. Award for Outstanding Academic Excellence and Community Service.
After graduating, Nick will sadly be leaving North Arlington and packing his bags for Massachusetts.  Nick will be attending Boston College, majoring in Biology for pre-med.  While in high school, Nick loved pep rallies.  He also enjoyed going to soccer practice and having Mr. Dembowski "make you laugh uncontrollably".  He misses "simply going to the football games in the fall on a Friday night before COVID struck".
Some of Nick's favorite things to do are going on runs, hanging out with friends, or simply driving around and listening to music.  He is a huge MCU/Star Wars nerd and loves watching The Office or Friends.  Nick enjoys baseball, basketball, football, hockey, and soccer.  He can't wait to be able to go back to the Yankees, Giants, and Nets games (I agree!).
A message Nick would like to give to the younger generations at North Arlington High School is, "Never settle for less than what you deserve. If you want to achieve something, there is no force bigger than yourself that is stopping you. Don't forget to make the most of your short experience here at NAHS, time will fly by and before you know it, you'll be graduating and leaving the friends you've known your entire life; enjoy your youth while you can."