Senior Spotlight – Aidan Hughes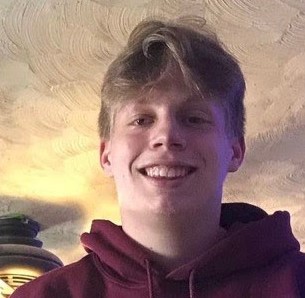 We would like to begin by congratulating Aidan for being the Salutatorian for the Class of 2021! 
Among the extraordinary seniors here at North Arlington High School is Aidan Hughes.  Aidan has lived in North Arlington his entire life.  Although "most people would complain about such a small town…I love it", noted Aidan.  
Like many of us, Aidan fondly remembers some classes while growing up. In elementary school, Aidan was the biggest math nerd.  Unlike any other student, he asked for a math packet for Christmas!  As he got older, math became harder, and English and History became more interesting.  In high school, he loved English and History because of the incredible teachers he had.
To show that Aidan is a prime example of a true Viking, he is involved in many extracurricular activities.  He wanted to do as much as possible while in high school.  To begin, he did soccer for 4 years, basketball for 2 years, winter track for 2 years, and crew for 3 years.  He is currently participating in spring track.  Besides sports, Aidan is involved in Student Council, National Honor Society, the SADD/Interact Club, the Traffic Safety Team, the Athletic Council, Class Committee, and the Freshmen Mentor Program.
If you did not know already, Aidan is the vice president of the Student Council.  He will be finishing the Bergen Community College program in the next few weeks.  Not many students can say they will graduate high school with their associate's degree!  After high school, Aidan plans on attending Fordham University, where he is now committed to.  He is going to major in Psychology and is most likely going to minor in Film and Television.  Aidan hopes to work his way up to a Doctorate in Psychology and dreams of working for the Behavioral Analysis Unit for the FBI (our very own Spencer Reid from Criminal Minds!).  With BCC giving Aidan a two-year head start, it will be an advantage for him.
"During my time at NAHS, I've gotten so close with so many teachers; it's even more fun being a senior and just being able to hold a conversation with them".  Aidan loves being able to talk to his teachers.  The best times for him are being in class with Mrs. Gagliano, one of the greatest in NAHS! One of Aidan's favorite things to do is collect records and has about 50 of them.  Scott Pilgrim vs. The World is Aidan's favorite movie and he believes it is one of the best to have been created.  He also likes to watch American Horror Story, Stranger Things, and anything that has to deal with Marvel.  
Aidan's message to the younger generations here at NAHS is, "As corny as it can get, they are not kidding when they say time flies in high school!! Especially with missing about a year and a half of true high school experience, I still feel like I'm 13. Please enjoy it the best you can; if you're unsure about whether you want to go out with friends one night or stay in, go out!! These are the times of our lives, once this pandemic subsides, live your high school life to the fullest; you'll never get it again."