Senior Spotlight- Claudia Fernandes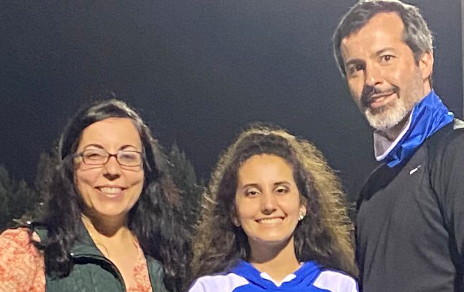 Claudia Fernandes is a senior at North Arlington High School and is especially involved in musical extracurricular activities. She is captain of the Color Guard team in our school's marching band and has been on the color guard team since her sophomore year. She joined color guard because of her friend Nicole, who was captain of the Color Guard team when Claudia was a freshman. "I wanted to participate in a sport, but I couldn't find anything that I liked, so Nicole encouraged me to try out for Color Guard. I joined to test the waters, but I grew to love Color Guard." 
Right now, Marching Band and Color Guard are just starting their season. They performed for the first time this year during our first home game. The band is currently working on their song Confident by Demi Lovato.
Besides color guard, Claudia participates in Drama Club, Tri-M, Spanish Honor Society, Freshman Mentor Program, and select choir. Outside of school, Claudia loves acting in theater. She attends Shakespeare Acting Camp at Drew University over the summer. Unfortunately, this year the camp was canceled due to COVID. When she graduates high school, Claudia hopes to become a nurse or a professional actress.
As captain of the color guard team, Claudia has many responsibilities. As she puts it, "The most important part about my job is to teach people that don't have experience in Color Guard. I have to give feedback that can help a person improve." Claudia believes that Color Guard is important because you can make new friends and bond with your teammates. Color Guard is a way for people that don't have a musical background to still participate in marching band. 
If Claudia could give her past self any advice before joining Color Guard, she would say, "It is a lot more difficult than it looks. Professionals make it look so easy because they have had years of experience and practice. It takes a lot of hard work and patience to be good, so don't get discouraged when you make a mistake." 
Claudia has a bright future in front of her and we wish her luck for the rest of the Color Guard season!