Meeting My Culinary Hero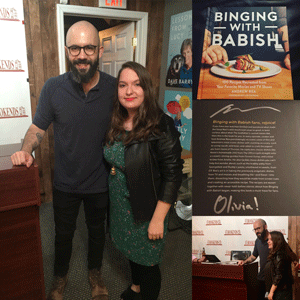 On February 10, 2016, a new internet culinary legend took the stage, Binging With Babish. Hosted by Andrew Rea, the Youtube channel began in Andrew's home kitchen where he began to make videos recreating dishes from movies and tv shows. It started with two burgers from the popular tv show Parks And Rec where Andrew ("Babish")  made his own version of burgers from the episode. The channel started slowly at first (as all Youtube channels do), but there was a spike in popularity after Andrew recreated a Thanksgiving leftover sandwich from Friends. From there, the channel grew and currently has around 5.5 million subscribers.
Recently, Andrew Rea announced that he would be publishing a cookbook featuring the first 100 recipes from his show to celebrate his success. The best part? He announced a book tour where he would sign books for thousands of fans. A tour date was set for October 25th at Bookends Bookstore in Ridgewood, New Jersey. As a diehard fan who has been following Binging With Babish from the beginning, I knew I just had to go.
When I arrived at the bookstore that night, there must have been over 500 people there. The line was wrapped around the parking lot, and people were abuzz with chatter as we flipped through our brand new cookbooks. I waited in line for about an hour and a half before finally getting to meet my culinary hero–I even got the chance to ask him a couple of quick questions while he signed my book, and we took a photo.
"Keep it simple" was his advice for new cooks, don't try to start with anything advanced. When asked about his favorite recipe, Andrew told me it was the famous "Pasta Aglio e Olio" from the movie Chef- An eight-ingredient pasta dish (if you count the boiling water), it was one of the first dishes to be featured on Binging With Babish.
Meeting Andrew in person was such an experience for me, mostly because I've been watching him on the screen every week. It was definitely surreal to see him in real life. He's a very kind and talented person, and I would recommend the show to anyone interested in learning to cook. I wish him the best of luck with his future endeavors, and I can't wait to see where Binging With Babish goes next!