Experiencing KCON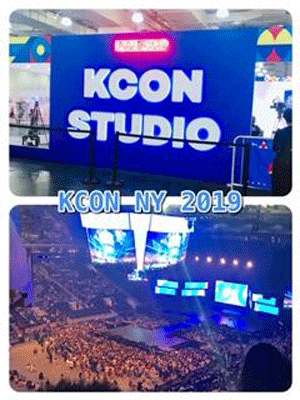 KCON is a Korean Festival that is held in various locations around the world. It is composed of a convention about Korean culture and a concert if you're willing to pay extra. This year, KCON arrived at New York. The convention, filled with a multitude of Korean culture was held at the Javits Center. It was a lot of fun, filled with samples of Korean food such as mandu (Korean dumplings), and ramyeon (Korean ramen). They also offered many Korean beauty products if you're into Korean skincare. In addition, there are hanboks, traditional Korean clothing that can be loaned and worn throughout the convention.
Of course, the K-pop part of KCON was also present. There were stands selling various K-pop albums and posters. A small stage was present for performers to show off their skills and interact with fans. In addition, there were photo booths where you could pose and take pictures. The highlight of the convention would be the surprise appearance of ATEEZ, a K-pop boy group. Everyone was ecstatic when they walked out on stage, talking about their Zodiac signs.
Finally, as the night approached, it was time for the concert. This year, it was held at Madison Square Garden. The entire venue was packed, with K-pop fans from all over. It started off with Kevin Woo, the MC for the night, showing off his latest song, Ride Along. Then the individual groups entered, singing and dancing to songs from their albums. To many of the fans' disappointment, the girl group EVERGLOW was unable to go, leaving five groups left to perform. They were:  ATEEZ, IZ*ONE, THE BOYZ, TXT, and NU'EST. Even so, everyone enjoyed the concert as the crowd cheered and sang along.
Overall, I enjoyed my experience at KCON. As someone who is interested in different cultures, it felt amazing to walk around and explore the food and traditions of South Korea. In addition, being able to see my favorite K-pop groups perform live provided for a memorable night. At the end of the day, KCON was one of the best conventions I have ever attended. I will definitely be excited to attend again next year.