New York Comic Con 2019: The Magic of Pop Culture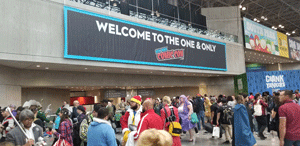 Athena Kiriakoulis, Guest Writer
December 3, 2019
Last month, thousands of people flocked to the Jacobs Javits center for one special event – the New York City Comic Con! Over the past few years, NYCC has grown in popularity, becoming the biggest pop culture event on the east coast. During this four-day event, many dress up as their favorite characters, with handmade costumes. While most do this for fun, others take it quite seriously, spending all year to complete their costumes. In addition, the event holds an annual cosplay contest, where fans compete to win the title of best costume, as well as $5,000.
However, fan dedication is not the only thing that makes NYCC so special. One section of the event, called the Show Floor, is filled with vendors. There, people can buy comic books, custom merchandise, and even drawings from well-known online cartoonists. Walking through this area feels just like a crowded city marketplace, with interesting shops and items. Apart from that, there are the panels hosting famous writers, comic book artists, and actors! At each panel, these speakers discuss the projects they are working on, and answer audience questions. If fans are lucky, they even hold screenings, which show trailers or clips for upcoming tv shows and movies! This year, the event included panels such as "The Walking Dead", "Snow Piercer", and "Star Trek".
In the end, New York City Comic Con 2019 was an amazing experience.