Haunted Hallway 2019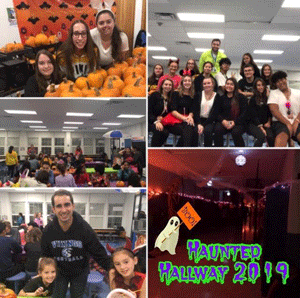 The creepers are back in town! After last year's success with the haunted hallway, the senior class decided to do it for another year. On October 30th, the class of 2020 sponsored the Haunted Hallway for the town's Trunk or Treat. This year, there was another great turn out, even after the trunk or treat was changed to the day before Halloween.
Student volunteers had several different roles such as guide visitors walk through the hallway, scare children and help people pick some pumpkins to paint. During the event, people walked inside the first-floor hallway and were greeted by the spooky sounds and terrifying people. As visitors walked around the hallway, they saw the spooky characters, the red and purple lights creating a creepy scene, and eerie decorations. Once they finished, they left through the high school cafeteria and had a chance to paint pumpkins.
As a guide and member of the 2020 class, I got to see many reactions from the visitors. Many of them were scared, others were mellow, but overall everyone seemed to have fun! It must be emphasized that this couldn't have been done without donations from the town, the help of student volunteers, the support of our administrators and guidance of our advisors – Mr. Blackford and Ms. Gordon. Now, as the class of 2020 graduates, we hope to see the infamous haunted hallway continue its legacy and for it to grow even more!