Pep Rally 2019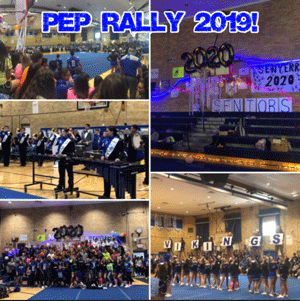 This school year is off to a great start with our fall pep rally. The freshmen got to experience what it's truly like to be a North Arlington Viking for the first time, and the seniors experienced this event for the first time as upper classmen.
During the pep rally all of the fall sports teams were introduced with special performances from the cheerleaders. Coaches spoke, students cheered, and Mr. Dembowski rapped, but more importantly, we came together as a school to celebrate being Vikings.
The pep rally, which was this year's first dress down day, brought the excitement of being out of uniform and celebrating the Vikings all at once, making the day very fun and full of school spirit.
Overall, the pep rally was a success and I'm sure many students wished it never ended. Luckily for them, though, the next one will occur before we know it, and students will get to experience the pride of being a Viking all over again.