Senior Sunrise!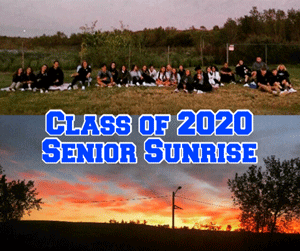 Since the beginning of the year has already begun, the Class of 2020 wanted to start off right with the Senior Sunrise! The idea was to come together to watch the sunrise together on their "last" first day of school. So, at 5:45am on an open field, the seniors did just that. The event was organized by the Class Board for the Class of 2020, who provided orange juice and donuts to the group. Everyone sat in blankets and pajamas, sharing the morning together as the sun came up. Soon enough, the sun had risen, pictures were taken, and the seniors returned home to get ready for school. There have already been plans to have a 'Senior Sunset' on the last day of school, especially since everyone enjoyed the sunrise.
Where did the inspiration come from? Dominique Fina, Head of Funds for the Class of 2020, commented, "We saw some people on Tik Tok doing it, so we thought it would be cool and it would help bring us together."
Why do you think it is important for the senior class to come together and will there be any future events like the sunrise? "It's definitely important because these memories will last a lifetime and we're planning on doing a Senior Sunset to end the year," said Nicole Dean, active student in the senior class and member of the Class of 2020 Fundraising Committee.
The Senior Sunrise was the first of many "lasts" for the seniors, who will be experiencing the usual bittersweet memories of last dances, pep rallies, games, and events all year. Even so, time goes on and it is certain that the seniors will make some wonderful memories together this year. Here's to the Class of 2020!