The New School – Mannes Tour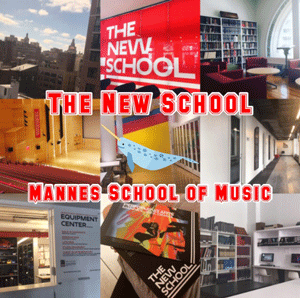 The New School, established in 1919, has its campus in the bustling residential neighborhood of Greenwich Village, New York City. The esteemed liberal arts institution contains five schools- The Parsons School of Design, the Eugene Lang College of Liberal Arts, the Schools of Public Engagement,  The New School for Social Research, and the College of Performing Arts which contains the School of Drama, Mannes School of Music, and the School of Jazz and Contemporary Music. My family and I visited Mannes School of Music since my brother is interested in applying there.
For the prospective student, the school was appealing in many ways. Those who appreciate an urban environment would love studying there.  Mannes has beautiful views of the city streets from its lounges and boasts a diverse population of students. Music students have a large library at their disposal, including borrowing privileges at NYU and Julliard. Practice rooms in the school are soundproof and equipped with pianos, and students have access to lockers right down the hall to keep large cases and instruments. The school also provides access to all sorts of recording equipment, from cameras to speakers, along with an entire recording studio.
Our tour guide mentioned The New School has an open curriculum, meaning that even if a student chooses one specific major, they are still allowed to take classes outside of their major in other parts of The New School. For Mannes in particular, we were told the students in the music school are actually quite close, playing together across different disciplines in various ensembles. This is very positive as it creates an open and blended atmosphere for students who might want to dabble in a bit of everything! We were also informed that students have many opportunities to perform outside of campus through the gig office, as well as put on large scale productions like operas and other stage performances in venues such as Carnegie Hall and Lincoln Center.
Other notable facts about the music school: Students must all take a year of basic piano; actor Bradley Cooper once studied there; everyone rotates seats during orchestra classes (so the same person doesn't hog first chair the entire year); students can get discounted tickets to the MET Opera and NY Philharmonic Orchestra; and there are many options for financial aid packages for students.
Overall, we were very impressed with Mannes and The New School. I certainly recommend this school for anyone looking to study in the fields of music, performing arts, design, fashion, English, or political and environmental science.