NAHS Prom 2019!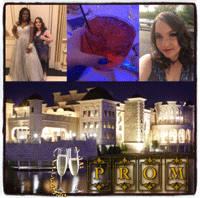 A night of glamour in a beautiful castle is just what anyone would hope prom to be. That was what NAHS students who attended the prom just recently had the pleasure to experience at the Legacy Castle in Pompton Plains thanks to months of preparation! Cocktail hour began at 5:00 and the students wandered the beautiful rooms of the castle while they sampled hors d'oeuvres and took pictures in all of the extravagant locations in the castle. The fountain outside and the balcony were two very popular spots, and everyone was certainly looking their best in sparkly dresses and tuxedos!
After the cocktail hour, the dancing began in one of the main rooms. Everyone hit the floor to enjoy their favorite songs all while a professional videographer filmed groups of students to create a large music-video-style mashup of some of the highlights from the night. A bit later on, the buffet for dinner opened and the guests were invited to fill their plates with a variety of foods from slices of pork crown roast to chicken parmesan. The dinner was definitely a big hit, and not long later did the second half of the night begin to unfold. After eating, many groups of friends flocked to the photo booth to take some pictures in their opulent outfits before getting back on the dance floor. As the end of the night rolled around, the big moment arrived for the prom court to be announced. The votes from the teachers were in- Giovanni Gonnella was crowned Prom King and Skye Forster was crowned Prom Queen!
Students ended off the night by dancing to a few more fan-favorite songs. It was certainly a fantastic night and we would like to thank everyone who made this event possible, particularly the administration and advisors, Mrs. Rosen – Williams, Ms. Salway, Mr. Blackford and Ms. Slane!