Museum of Illusions Trip!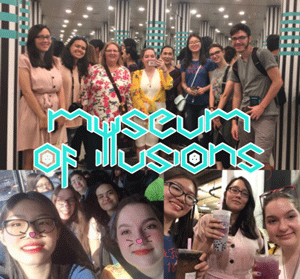 Illusions are all around us; and at the Museum of Illusions in New York City, these illusions become even more of a reality. As a rewarding, enjoyable activity for the end of the school year, the AP Literature and AP Language and Composition students along with the Viking Saga staff were able to visit the Illusions Museum on a beautiful spring day. The museum showcased a variety of mind-bending illusions from a room entirely composed of mirrors to paintings that appeared to change their illustrations depending on the angle they were viewed. Many of the illusions were interactive and the students buzzed around taking photos and posing for some truly interesting pictures. A popular favorite area was a room built to look sideways where people could pretend to be falling off the wall. The kaleidoscope tunnel on the second floor was also an interesting spectacle.
After experiencing the unique artwork and design of the museum, the hungry students made their way to Chelsea Market to find some lunch and browse the many fantastic shops inside. There were numerous options from tacos to bubble tea to mini doughnuts, and there were even shops selling imported goods from England and Japan. Once everyone had finished eating and exploring the market, we took a short walk back to the Port Authority to board the bus home
A few of the students shared about their experience about the trip as they were interviewed. "My favorite illusion was the room where it looked like you were standing in the wall. It was cool because you got to play around with different poses and interact with the "bench" while taking funny photos with your friends," Kate Arentsen, an AP Lang student recalled her favorite illusion in the museum.
Stephanie Zhang, a contributing writer for the Viking Saga, shared her most memorable parts of the trip, "Experiencing and viewing all the different exhibits in the museum as well as the market with friends." In particular, she enjoyed stopping to get bubble tea in the Chelsea Market.
Finally, Staff Writer Brian Kataro enthusiastically described his thoughts on the trip, "It was just phenomenal. Wandering the streets of New York with friends and teachers was a welcoming new experience, and the countless moments of amazement in the Museum of Illusions brought laughter and puzzlement." He also enjoyed being able to explore the market, "Altogether, an unforgettable trip full of curiosity and fun around every corner."
Thank you to Mrs. Albuquerque and Mrs. Hughes as well as the chaperones, Mrs. Ingannamorte and Mr. Mills,  for making this trip possible and giving us a fun and memorable day in the city!