Tri M's Lip Sync Battle 2019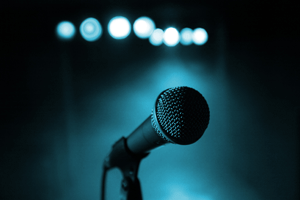 Hang on for a minute...we're trying to find some more stories you might like.
A few weeks ago, the members of Tri-M hosted a lip sync battle. The four participants each performed three songs of their choice making for a very entertaining event. The winner, Leyanna Chang, sang We Will Rock You, Party Rock Anthem, and Uptown Funk. Lila Boudissa and Lianne Litchfield chose Un Poco Loco, Breaking Free, and Defying Gravity – three classics. Cheyanne Tonges chose Bohemian Rhapsody, I Hate Myself for Loving You, and Gurls Just Wanna Have Fun. Giovanni Gonnella, the runner up, chose Shallow, Hold it Against Me, and Work.
When asked about her experience, one of the performers, Lila Boudissa, stated, "Being a performer was really fun, and although we didn't win, we had a blast on stage. Thanks to Mx. Lemley, the music director, and the two hosts, Alex Regan and Tyler Golpe, we had props and lights to help bring our performances to life. The goal of the night was to have a good time, something that was well achieved as everyone sang along to the songs. I think I speak for all the performers when I say that many thanks are owed to Mr. Bott, our principal, and Ms. Rodriguez, our curriculum director, for helping make it all possible. Needless to say, I would definitely do it again. So, we'll see what next year brings!"