Visit to Marist College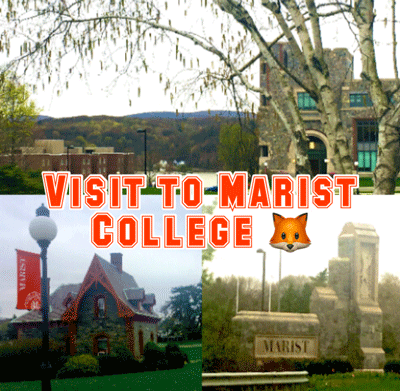 Located right along the Hudson River in Poughkeepsie, New York, Marist College has an impressive campus and an ideal space for students looking for a mid-size school. After being referred to the school by Mrs. Buckley, my family booked a tour of the school as the first stop on a long drive up to Boston for vacation. Before the tour started, we entered an auditorium where visitors were given an information session about the school. I learned quite a few interesting facts: Marist has about 5,000 undergraduate students, the student to professor ratio is 16:1 (making the average class size about 20 students), and there is a huge study abroad program which at least 50% of all Marist's students take advantage.  There are over 80 clubs and organizations within the school, and 98% of their graduate students find jobs within 6 months of graduation. Marist is a private college and ranks high with the Princeton Review and U.S. News & World Report as one of the best colleges in the United States.
All winning points, but what really sold the place was seeing what was available around the campus. Our tour guide, a current student, showed us around the different buildings while answering our questions about the programs Marist offers. Academic-wise, there are 47 Bachelor's programs, 13 Master's programs, and 1 Doctorate program. 83% of students at Marist also get involved in internships, but what about extra-curricular activities?  In addition to a wide variety of sports (including an Equestrian team and a Division 1 women's basketball team), Marist has seemingly endless opportunities to get involved with other students and participate in community service. The biggest club at the school is called Campus Ministry, which is a community serviced-based, non-denominational faith club where students participate in a plethora of activities that give back to the community.
So what does it mean to be a red fox? The college bases their values in the original mission of the Marist brothers who founded the school: Top-quality education, commitment to community service, and maintaining a supportive atmosphere for its students. Something that resonated with me was our guide telling us that the students really do feel connected, that they aren't just numbers sitting in seats or passersby on campus. During our tour, students held the door for us, called out hello to our guide as we passed by, and gave us friendly smiles as we made our way around. That experience meant more to me than any statistic could offer because I could see exactly what environment I'd be in if I studied there. While my college search will still continue, Marist is now high up on my list of desired schools.