Spring Pep Rally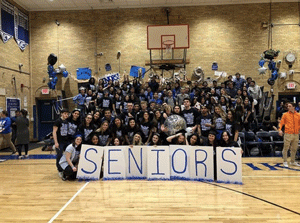 Hang on for a minute...we're trying to find some more stories you might like.
On Friday, April 5, 2019, North Arlington High School came up with yet another spectacular pep rally. This pep rally was the seniors' last one before their graduation. We had members of the sports teams being announced and cheerfully applauded by their peers as they paraded along the gymnasium. Members of the following teams were called up to the center of the gym: baseball, softball, track and field along with outdoor track, golf, and crew.
All students and faculty members were full of enthusiasm as they embraced the new spring sports season and athletes. Attendees had an opportunity to appreciate all of the decorations for each class, especially those above the senior bleachers. This year's theme for the 12th graders was indeed graduation since they will be experiencing it in a couple of months. Overall, this pep rally was successful in celebrating our spring sports, athletes and all around Viking Spirit.