Retro Video Game Tournament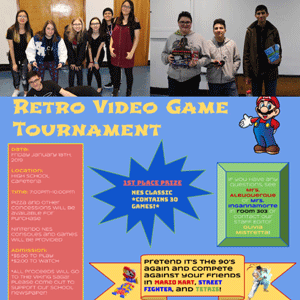 Hang on for a minute...we're trying to find some more stories you might like.
A few weeks ago, NAHS students participated in a retro video game tournament sponsored by the Viking Saga. Participants eagerly awaited their turn to compete with each other playing video games from the 80's and 90's. Games such as Mario Kart, Street Fighter and Tetris were competitively played using SNES Classic consoles.  Both participants and spectators had an opportunity to enjoy some snacks as contestants vied for the top four positions. The semi-finalists, Emilio Arroyo, Fausto Martinez and Umair Khan all took home prizes. The winner of this tournament, Michael Gilgallon, took home an NES Classic.  This was certainly a fun night to remember.