Game Design Club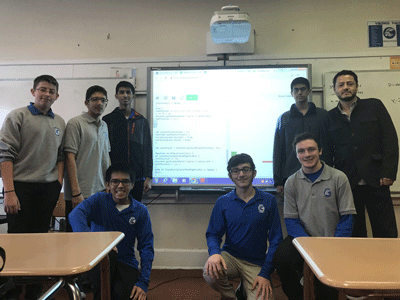 Hang on for a minute...we're trying to find some more stories you might like.
A new club has been added to the list of clubs at NAHS. The Game Design Club was created this year. The goal of the club is to make a game similar to Super Smash Brothers but from scratch. All video games start from a code and the code makes the game.
Mr. Tobar is the advisor of the club. The officers are Fausto Martinez as Secretary, Hussein Makki as Treasurer, Nicholas Capone as Vice President and Umair Khan as President. Umair has over three years of coding experience. He has coded a game, and a few webpages. To make the club run smoothly there are leaders of the roles needed to make the game. The Leading Artist is Gerard Nifras. His job is to make sure that the artists make the game's backgrounds, characters, and animations are the best that they can be. The Leading Musician is Ashleigh Chiang and she is responsible for making the music and sound effects for the game. The Leading Music Editor is Jason Caputo and he edits the music and makes sure that the music and sound effects correspond with the game. Umair is also the Leading Coder which means he writes most of the codes needed to make the game. Umair has made the background code, so it is up to every member of the club to make the game run efficiently.
For anyone interested in joining the Game Design Club, meetings are every Tuesday after school in room 205. You don't need to be an expert at coding to join. If you have coding experience, drawing, animation, or music skills, then you should definitely consider joining the Game Design Club. Most importantly, you need ideas, you need to be creative, and you need to be able to work cooperatively with others. Also, the Game Design Club jointly meets with Math Club so if you are interested in Math Club, come to a meeting on Tuesday.