The Great Jack O'lantern Blaze!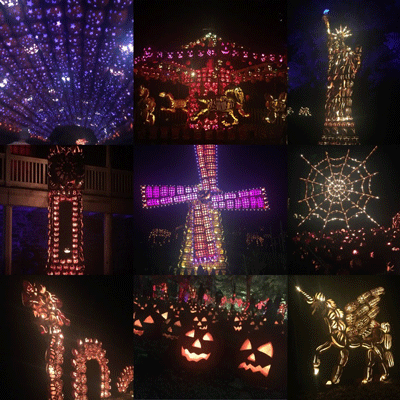 Imagine walking into a beautiful statue park, but all of the statues are pumpkins. You look up and realize the archway is also made of pumpkins and the streetlamps are pumpkins too. As you walk through, you realize that almost everything around you is an ornately carved jack o'lantern. Everything. Is. Pumpkins. That's what the Great Jack O'lantern Blaze in Croton-on-Hudson (Historic Hudson Valley, NY) is all about. This year "the Blaze" is running through September 28th to November 24th, and it is a mighty spectacle to uphold. Mr. Michael Natiello started the event back in 2005 and is still the coordinator at Van Cortlandt Manor today. Amazingly, over 7,000 jack o'lanterns are being displayed as parts of various sculptures around the grounds and are true works of art. I had the pleasure of going with my family for my birthday, and it was one of the most enchanting experiences I have ever had.
From a joyful circus train made of pumpkins, to a starry jack o'lantern tunnel, to a 25 foot tall statue of liberty made up of 114 carved jack o'lanterns, the Blaze has dozens of breathtaking pieces of pumpkin art decorating the grounds. Other sculptures include an ominous doomsday clock (yes, it has a working swinging pendulum and yes, it is a small jack o'lantern), a small pumpkin castle, a moving jack o'lantern windmill, a field of jack o'lantern dinosaurs, rows of glowing celtic knot jack o'lanterns, and many more. The event is truly an autumn marvel and a must-see for anyone in the area. Tickets sell out extremely fast, so it's a good idea to buy them in advance. The photos online really don't do the event justice- so next year, I definitely recommend this event to anyone looking for a fantastic night of fall fun.
Information credit: Tammy La Gorce for the New York Times