Red Ribbon Contest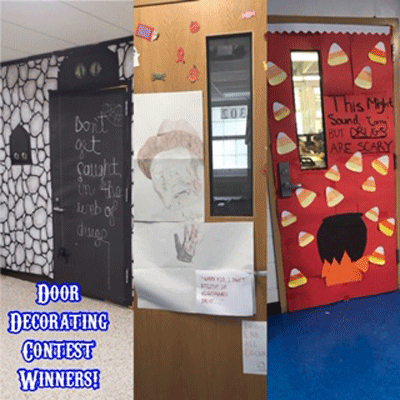 Hang on for a minute...we're trying to find some more stories you might like.
In honor of Red Ribbon Week and Halloween, NAHS held a door decorating contest. Each team had to decorate a classroom door with a Halloween theme and a Red Ribbon Week Message. Red Ribbon Week is a week where students try to encourage others to be drug-free. Drugs are extremely harmful and even life threatening; therefore, we need to make every effort ensure people, both young and old, stay away from them.
Every team worked diligently to make their door appealing to others. Mrs. Branco, Gerardo Baez, Katheryn Torres, and Skye Forster's team won first place. Their message was "Don't get Caught in the Web of Drugs".
Aida Lolovic, Natalia Mayan, Cassie Servitis, Mandee Martinez, Emily Irizarry, and Katherine Lasek won second place for their door. Their message was "This may sound Corny, but Drugs are Scary".
Third place was given to my team; I worked with Gerard Nifras and Emely Fermin. Our message was "Halloween and Drugs are Scary".
Overall, it was fun to decorate the doors, and it was exciting to see how other teams decorated their doors. Thank you to Mrs. Gagliano for organizing the event and I look forward to participating again next year!