Something New on the Horizon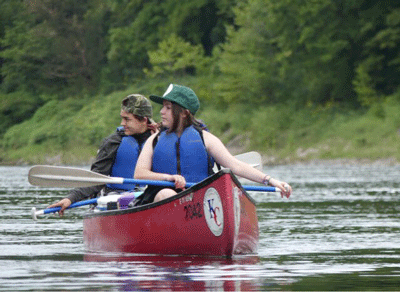 I'd like to start off by saying that I am a person who enjoys trying new things. Last year, I covered my first experience with live jazz when I went to a jazz club with my family. This year, I tried camping for the first time. By camping, I mean what a lot of people call "roughing it". I went to Girl Scout camp in 5th grade, but there were cabins and showers, luxuries that many wilderness/survivalist type people forgo for the chance to try and really experience living in nature. I had never experienced that kind of camping until very recently. That brings us to my story. One of my long standing best friends offered to take me camping at the end of summer, so I took the offer to try something new out and get a real feel for that whole "living in the wilderness" thing that a lot of people enjoy.
I was expecting a lot of things, the hauling of supplies from the car to the boats to the land and vice versa. I was also expecting that there wouldn't be showers or cabins, just the Delaware River and the woods. This was okay since we only planned to spend one night at the campsite, and we would spend the good part of two days canoeing on the river.
I was not, however, expecting the weather to change. None of us were, actually. Last minute, the forecast changed from the beastly hot, humid days in early September to a crisp autumn weekend. But the rain wasn't forecasted. It didn't rain hard, but anyone who has gone wilderness camping in the rain can attest to how difficult things can be in nature with water constantly falling on you. The first day was probably the most influential day of my summer. I learned multiple skills and tried many new things; including learning to row for the first time in a 2-person canoe, eating lunch on the water, making a fire (even with wet wood, we had dry charcoal and a small propane stove in our supplies), and how to pitch a tent.
As one can imagine, the rain hindered a lot of activities. Constant mud on the beach and the very cool temperatures in the evening stopped us from going swimming in the river and made starting the campfire very difficult. However, there were things I enjoyed very much: rowing through the misty, fog-like steam over the water in the early morning, the crisp smell of trees in the breeze, and especially the small toads my friend and I caught while looking for kindling. The rowing was possibly the biggest and most interesting challenge for me as I had never rowed before. In total, we rowed 22 miles along the Delaware River and I still don't know how I got through it. There were several times where we hit rough water and rapids and the river was so shallow in points that my oar scraped the rocks at the bottom. Even so, we got through it and I was left with an immense feeling of accomplishment.
Overall, I think I would prefer better weather the next time I try to brave nature, but I learned a lot of valuable skills and I got the opportunity to try something that I probably otherwise would not attempt. Now I have an interesting experience to share with others. So, I now pose the question, would you try wilderness camping or simply something new?
Photo credit to Olivia Mistretta.