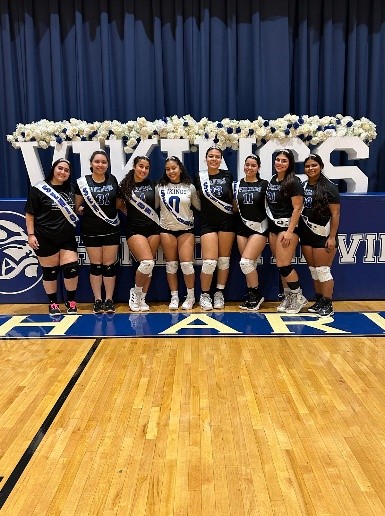 The coming of Fall signals the start of a new season of sports at NAHS. Today, our focus is on the North Arlington girls volleyball team led by head coach, Ms.Dwyer and assistant coach, Ms.Capobianco. 
The starting six consist of: Junior Olivia Sanchez,  Junior Sarah Silva: leading the team in kills, accumulating 50 so far in this season, Junior Maia Pedreira, Senior Giana Auriemma, Senior Captain Rhi'Anna Gomez: contributing 37 kills for the team and Senior Captain Jeylene Joza: leading the team in digs contributing 90 digs for the team.
Coming right off the bench, senior Maria Guadama leads the team in assists. The Vikings are a well rounded team with many talented players. Although the team will be losing eight seniors this season, we are certain that a strong Viking legacy of girls volleyball will continue.
As always, senior night was a success with countless fans supporting the team and saying goodbye to the senior athletes.