Super Bowl LV Review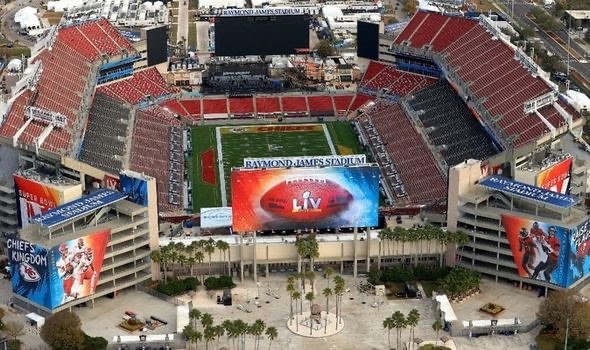 This year, the Kansas City Chiefs and the Tampa Bay Buccaneers made it to the finals of Super Bowl LV. On Sunday's game day, the Buccaneers took home the victory with a sizable score 31 to 9. Quarterback Tom Brady also gained his seventh Super Bowl ring. This Superbowl was the first time in NFL history that a team played in their own stadium given that it was hosted in Tampa, Florida. Since the pandemic has greatly affected the season and safety protocols, there was a limited number of fans in attendance. 
There were, however,  a lot of cardboard cutouts of fans sitting in seats and over 7,500 healthcare workers were given free tickets, to thank them for their hard work during the pandemic. Before the game, Eric Church and Jazmine Sullivan sang the national anthem. 
In the first two quarters, the Buccaneers were able to get two touchdowns back to back, largely thanks to Rob Gronkowski. This brought the Buccaneers up 21 to 6, and the Chiefs were able to make two field goals. Next came the halftime show once the first 30 minutes of the game elapsed.
The Weeknd performed for the halftime show including many backup dancers. Although he didn't bring any other artists, he still put on a show singing all his greatest hits. He ended his performance with his most popular song "Blinding Lights". 
Next, in the last two quarters, the Chiefs kept trying to catch up to the Buccaneers. However, the many fumbles and tackles prevented the Chiefs' offense from scoring again.  Many people are saying that it was "Patrick Mahome VS. The Buccaneers." During the third quarter, the Buccaneers made another touchdown.
To continue, the two teams began going back and forth with the ball during the last quarter of the game. There were multiple flags due to holding and unsportsmanlike behavior. As the Chiefs kept trying to make touchdowns, the Buccaneers prevented scoring with their strong defense. This caused the Chiefs to lose the game 31 to 9, making their record to be 15-4 while the Buccaneers' record changed to 16-3. 
Tampa Bay won on their own turf, and Tom Brady made history once again in gaining his seventh ring in the NFL. Tom Brady has won more Super Bowls than any player in the NFL, proving that he really is the greatest of all time.