Super Bowl LIV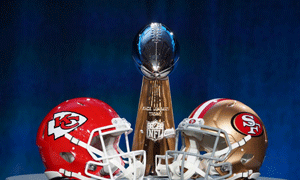 On Sunday, February 2, 2020, the NFL held the 54th Super Bowl at Hard Rock Stadium in Miami, Florida. This year's teams were the Kansas City Chiefs and the San Francisco 49ers. This game was intense, as both teams played their best to earn the title of champions.
Shakira and Jennifer Lopez performed at the halftime show. Shakira began the performance with some of her hits, "She Wolf", and "Whenever, Wherever". Bad Bunny also made an appearance on stage with Shakira, performing "I Like It". Then, Jennifer Lopez performed some of her hits, "Jenny from the Block", and "Get Right". J Balvin also made an appearance, and performed "Mi Gente" with Jennifer. The halftime show concluded with Shakira's hit, "Waka Waka". The halftime show was special for Shakira because she performed on her 43rd birthday.
The 49ers have been one of the most successful teams in NFL history. They have been division champions 20 times from 1970-2020. They have won 5 Super Bowls, and they are the sixth most valuable team in the NFL. The Chiefs have won 2 Super Bowls, including this past one, fifty years apart.
This Super Bowl was extremely nerve wracking; both teams were tied with 10 points each at halftime. In the third quarter, the 49ers scored 10 more points and took the lead. However, in the last quarter, the Chiefs scored three touchdowns, making the final score 31-20. Patrick Mahomes, the Chiefs' quarterback, won the Super Bowl Most Valuable Player Award, since he was a valuable asset to the Chiefs. Congratulations to the Chiefs for their amazing comeback and their first Super Bowl win in 50 years!