NJ State Championships 2018-2019 Bowling Season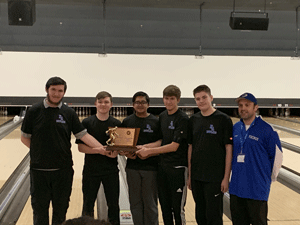 Following the end of the NJIC Meadowlands Division finals and the NJSIAA State Sectional Tournament, the NA Vikings Bowling team moved onto the State Championships, which was held at Bowlero in North New Brunswick on February 14th. The championship consisted of over 40 teams from New Jersey, divided into 4 groups, the best of which would go onto the semi-finals, followed by the finals.
The Vikings' team consisted of five players: Liam Henkel, Rahul Patel, Peyton Esposito, Trent Petito, and Eric McKenna. At the very beginning of the tournament, many teams had some initial difficulty with the oil patterns on the lanes, which were an uncommon type and did not match what the Vikings regularly bowled with at the nearby Bowl-O-Drome, where the Meadowlands Division was exclusively held at. The first match ended with a team score of 762, likely due to unfamiliarity with the oil pattern, which completely changed how each player had to bowl, but the Vikings quickly adapted to the new style, bringing in a 963 and a 899 in the second and third games respectively. With a total score of 2624, beating the second-best team in Group 1 by 100 pins, the Vikings qualified for the semifinals!
With a score of 2624, the Vikings were placed as a #4 seed in the competition, and then vied against the #1 seed, South Brunswick, in the finals. Unfortunately, we did lose against South Brunswick, who later would go on to face Jackson Liberty in the finals. Nonetheless, the NA Vikings Bowling Team did a fantastic performance at the championship, not to mention the encouraging and motivating advice given by Coach Farinola.