Super Bowl 2019 – New England Patriots beat Los Angeles Rams to Claim Title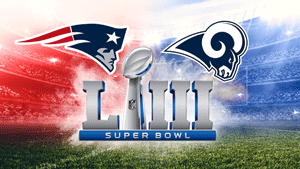 The New England Patriots' dynasty began 17 years ago and continues until today. During Super Bowl LIII played on February 3rd, Coach Bill Belichick tamed the explosive Rams, and quarterback Tom Brady commanded an efficient offense. The Patriots commemorated their anniversary by securing another championship against the same franchise, in a similar way, for a title that represents not a bookend so much as an ellipsis. New England's reign is as relentless as a downpour, and without precedent.
The Patriots claimed their sixth title in 18 seasons by edging the Los Angeles Rams, 13-3, in a slog of a Super Bowl LIII. Like their previous five Super Bowl victories under Belichick and Brady, Sunday's was not decided until late, on Sony Michel's 2-yard touchdown run with seven minutes left. One final stop — Stephon Gilmore's interception near the goal line with 4 minutes remaining — punctuated a defensive effort that evoked Belichick's first masterpiece against the Rams, when he weakened their effectiveness by erasing the versatile back Marshall Faulk. Against this Rams team, the league's second-ranked offense, New England forced punts on nine of 12 possessions and five three – and – outs.
The ball decided, in the 267th and final game, that it was just too exhausted to breach the end zone anymore. It did so only once. These Rams and Patriots will be forever linked in Super Bowl ignominy: the fewest combined points, the lowest-scoring first half in 44 years (3 points), the most time elapsed without a touchdown. That stretch ended at the time when Brady asserted his primacy – taking over at his 30 yard line with 10:00 left, Brady connected on four straight passes for 67 yards, including a 29 yard beauty to Rob Gronkowski down the left side that preceded Michel's touchdown, his sixth of the playoffs.
Brady, at age 41, finished 21 of 35 for 262 yards, with more than half of that total – 141 – going to Julian Edelman. A year after missing the Patriots' Super Bowl loss to Philadelphia with a knee injury and being suspended for the first four games of this season for violating the N.F.L.'s policy on performance-enhancing drugs, Edelman was selected as the game's most valuable player.
The score stayed tied until Michel's touchdown, and Los Angeles had one last, best opportunity to equalize. On second down from the Patriots' 30, just after Duron Harmon swooped in to break up a deep pass to Cooks, Goff looked that way again. This time, his pass was underthrown, and Gilmore, draping Cooks, leapt to grab it. Gostkowski extended the margin of victory with a 41-yarder with 1:12 left, and after Zuerlein missed a 48-yarder, a final act of desperation, the Patriots swarmed the field, the scene familiar and new all at once. They have assembled this unyielding dynasty behind Gronkowski and Edelman, Devin McCourty and Dont'a Hightower, and hundreds of others. But only two men, Belichick and Brady, have witnessed it all from the start. The everlasting champions, for the sixth time in 18 seasons, have a title to defend.