The End of the 2018-19 Bowling Season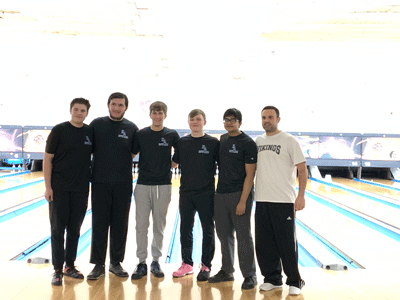 The end of a winter sports season means a lot of things. For the players, it can mean the separation of teammates from activities other than classes, but also the beginning of the spring season, where they can reconnect with other groups of friends. Whichever the case, the end of a sports season is always bittersweet.This year's bowling season is no different, as we are saying farewell to two of our most beloved players, Eric McKenna and Liam Henkel.
January 31  marked the end of the NJIC Meadowlands Division in which the NA Vikings faced off against and defeated Wood-Ridge due to Liam Henkel receiving a three game total of 577, Peyton Esposito scoring a 651, Trent Petito and Rahul Patel making a switch in the game, scoring a 143, followed by a 168 and 161 respectively (totaling a 472), and Eric McKenna ending strong with a solid 803.
Once the games for that night ended, an awards ceremony was held to mark the end of the Meadowlands Division and Eric McKenna scored three trophies for highest average, highest series, and highest game. Although we came in second in the NJIC Meadowlands championship, we were only two points behind from the victors, the Lyndhurst Golden Bears, and all teams in the championship were very fierce competitors. Not only do we need to congratulate this bowling team, but Coach Farinola as well. Coach Farinola was indeed the reserve of encouragement and advice that steered the team to victory.
The good news is that the bowling season isn't actually over since the team is playing at the NJSIAA State Sectional Tournament on February 7th. We wish them good luck.