Fall Pep Rally 2018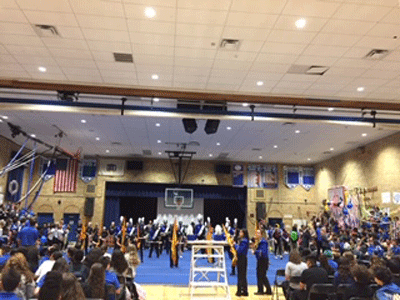 Hang on for a minute...we're trying to find some more stories you might like.
Fall season is here which means sports are starting up. As always, the Pep Rally kicks off the season with a bang. Students are always excited to enjoy spending some time sitting with friends and participating in the morning's fun. We will be experiencing a bit of sorrow with the departure of Mr. Hutchinson, our athletic director. An outstanding performance from the band and color guard began the festivities followed by the cheerleading squad with an awesome routine. The pep rally officially started off with the introduction of the girls' volleyball team and ended with the football players passing their roses onto the cheerleaders.
Continuing on with the fun, the cheerleaders entertained the audience with two more performances, resulting in the spectators singing and dancing along with the rhythm of the songs. The pep rally later had school spirit battles to see which class was the loudest and most enthusiastic. The celebration sadly came to an end with a video of many staff and students wising good luck to Mr. Hutchinson as he departs the Viking family. We are deeply saddened to see him go but we will remember everything he has done for the community as well as the school. Thank you to everyone for their time and hard work in making this yet again another successful pep rally. Good luck to all the teams this season.