2018 NFL Draft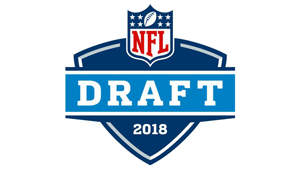 Hang on for a minute...we're trying to find some more stories you might like.
Big names and big shockers have characterized this year's draft class. This year's draft was held in Arlington, Texas in AT&T Stadium, home of the Dallas Cowboys. However, the home town team didn't steal the show this year as the Browns, Giants, Jets, Ravens, and Eagles all made their own marks instead. With the very first overall pick, the Cleveland Browns stunned the football world and selected Oklahoma quarterback Baker Mayfield. It came as a surprise because it seemed to be a foregone conclusion that they were going to draft USC quarterback Sam Darnold. The second overall pick was the exact opposite as the New York Giants took Penn State running back Saquon Barkley, who provides a power punch to a sorely needed position for "Big Blue". As for the other New York team, the Jets capitalized on the missed opportunity from the Browns and took Darnold as their new franchise quarterback, hoping he will lead this team out from the depths of mediocrity.
With the last pick of the first round, the Philadelphia Eagles traded their pick to the Baltimore Ravens who then selected Louisville quarterback Lamar Jackson. Jackson, the 2017 Heisman Trophy winner, was the last big name sitting in the green room and when it seemed like he'd have to wait until day 2 to get his name called, the Ravens came calling. When it was the Eagles turn to pick in day 2, they traded up in front of the Cowboys and took a tight end named Dallas Goedert. This pick was announced by former longtime Eagles kicker David Akers, who went on a 2-minute rant aimed at the Cowboys crowd. This was done in response to what Cowboys legend Drew Pearson said in last year's draft in Philadelphia. It was a moment to behold for the two rivals and made for great TV entertainment and publicity for not just themselves, but the entire National Football League. It will be interesting to see how this year's rookies perform once the bright lights come on in September.