Spring Cleaning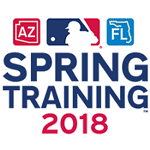 Hang on for a minute...we're trying to find some more stories you might like.
When every team enters a new season, there are always new faces looking to make an impression. All of them have chips on their shoulders due to being castaways from other organizations and all have something to prove when they start in the spring with their new teams. In Florida, the New York Yankees and Mets are in the middle of their spring training exhibitions. Both teams have players vying for a certain position and spot on the opening day roster. Young talents in the Yankees farm system like outfielder Clint Frazier, third baseman Miguel Andujar, and utility infielder Gleyber Torres are all trying to prove they belong on the final roster before the season starts. Frazier has shown flashes of power and has impressed many of the Yankees staff and front office but will most likely see limited playing time in the 2018 season due to the depth the team has at all 3 outfield positions. Torres and Andujar are both competing for the third baseman job but might have to be sent back down to the minor leagues to gain a little more experience before being called back up.
The crosstown rival Mets have their own issues for their roster. Due to the age and injuries of beloved third baseman David Wright, the Mets need depth at that position. There are also questions at their centerfield position regarding the health of Michael Conforto's shoulder as Brandon Nimmo has seemed to emerge as the Mets opening day centerfielder, beating out Juan Lugares in the process. Nimmo has batted an impressive .344 to go along with 2 homeruns and 6 RBIs while having an outstanding 1.171 on-base plus slugging percentage this spring. In the cases of both teams, they will have to do some hefty spring cleaning and make tough roster moves and decisions before they are ready for the start of the season.